zoom the map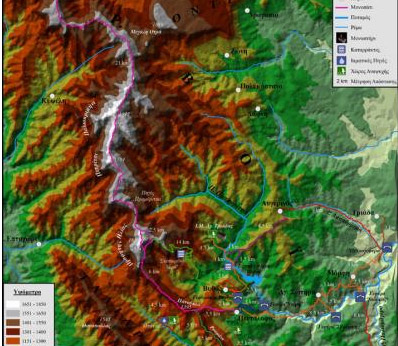 The Pentalofos Village


We had stone and we worked with it! Pentalofos is standing on the anaglyph of Voio Mountain between ''Grantiska'' and ''Roumani'', almost 1050 m above the sea. Pentalofos is the most noted and biggest ''Mastoroxori'' of Macedonia and one of the most beautiful places in Northern Pindos, not only for its spectacular nature through the dense forests and the outstanding alpine landscapes, but also for its graphical traditional villages. Around Pentalofos, there are numerous perfect places to be visited, and give a deep sight access to the history.


Pentalofos, the old and famous ''Zoupani'', extends to the East. The about 500 preserved buildings are sequenced amphitheatrically. Pentalofos is a traditional settlement with stone houses and graphic paths, many natural beauties and individually healthy climate. The art of the adequate stone workers is written on the delicate churches, the faucets, church towers and on the the two or even three floor buildings with their sun lounges, their narrow windows and the coigns bedighted by crosses.


The Vithos Village


Vithos (the old ''Ntolos'') is sunk in the foothills of ''Karaouli'' Mountain with altitude of 1035 m. Vithos is a village different from the others. It is located at the bottom of a sharp gulch, literally hidden in the gross vegetation along rapid slopes which are erected above the roofs.


The around landscape is barren and poor, just as in the other alpine villages of Epirus, lacking of acres. Water is abundant. This mountainous village with its deep gorges, its rapid rocks and the endless beech forests, is kept in visitor's heart.


The Agia Sotira Village


The mountainous villages of Voio Mountain comprise an outstanding network of villages which is unknown to the majority of people. These villages so small and beautiful are located on the slopes and valleys, hidden by the grown landscape. Anyone could feel that their buildings are the natural continuation of this place. As like these is the Agia Sotira, the old ''Svoliani'', which is extended amphitheatrically on the slope of a hill 920 m above the sea.


The way up to the villages is decorated with lammergeyers and oaks, chestnuts and bearberries. Agia Sotira seems to be deserted, however a few chimneys could be poorly smoke revealing the existence of human presence.


The Dilofo Village


Dilofo, not only because of its location, but also due to its dense vegetation, had been characterized as the den for the hunted Greeks. It is located in deep forested gorges and surrounded by high hills. It is the best preserved village of Voio, regarding its architectural shape. Many inhabitants have found refuge in Dilofo and Agia Sotira, after the destruction of the Tseros village.